GOLDEN MARINDO PERSADA
For over 30 years, we have been striving to provide world-class service and highest quality ornamental marine livestock from the coral reefs of Indonesia.
Golden Marindo Persada focus to lead the global market of ornamental marine livestock through high-end innovative and reliable products, high-tech equipment, and talented people. The company business approach has been to collaborate with our global customers and partners for a long rewarding mutual benefit; to maintain sustainability of supply with responsible conducts to preserve coral reef habitat.
Innovation is the leading catalyst for our mariculture product team. Selective propagating and breeding has created eco-friendly superior products. Many of these mariculture soft and hard corals, live rock and marine fish are superb in color and excellent survivability rate. We are closer toward achieving zero percent mortality rate with this mariculture livestock product.
Our technology team is responsible in designing a very efficient and state of the art holding facility employing both biological and mechanical filtration. The systems are not merely temporary holding vats before export but an actual optimum environment created so that aquarium marine livestock will thrive and fully developed strong color.
Ability to supply global demand with wide selection and consistent quality products set us apart as the leading exporter in the industry. In order to continue this level of excellence we are maintaining a huge holding system, consist of 1,000,000 liters water as the backbone of our operation.
We are gladly inviting our customers and prospective customers to make appointment and visit us whenever you are in the area. Our export facility is minutes only from Soekarno-Hatta International Airport in Jakarta, Indonesia.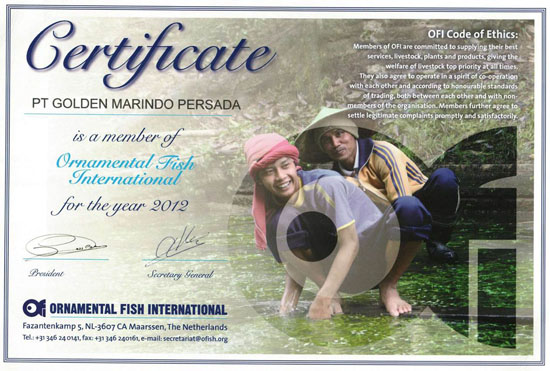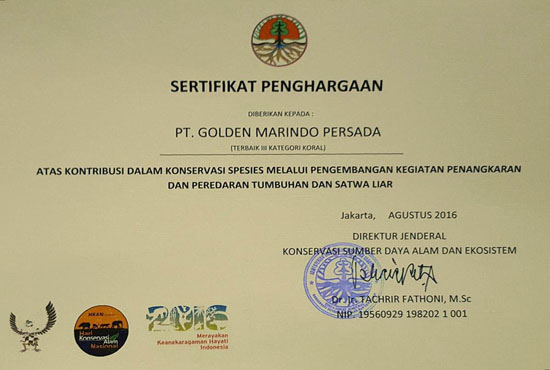 Certificate of Wild Species Conservation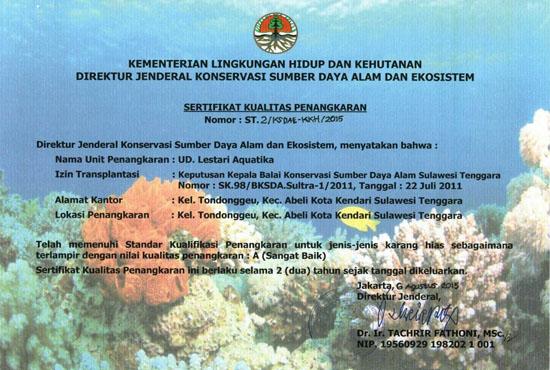 Certificate Quality Corals in Captivity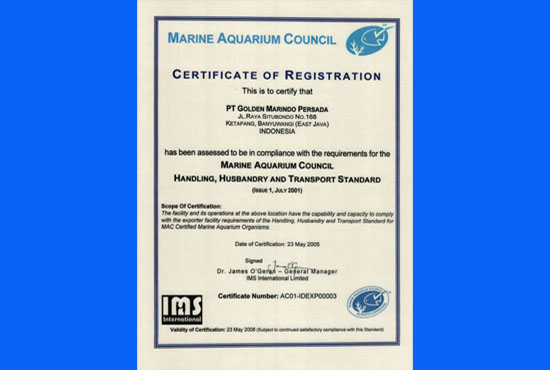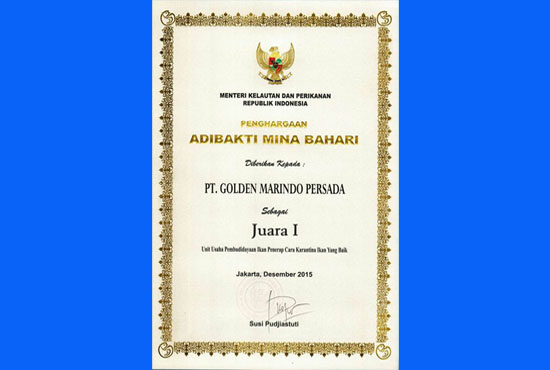 Certificate for Good Quarintine for Marine Fish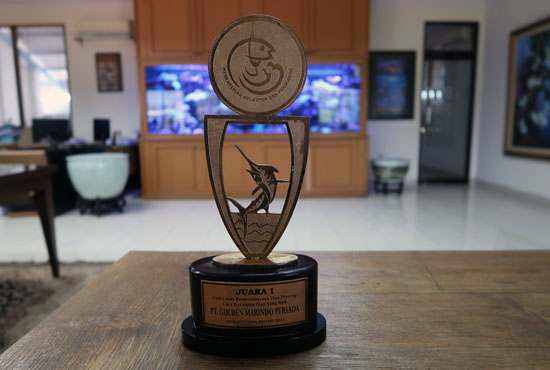 Throphy Good Quarintine for Marine Fish
Since 1996, Golden Marindo Persada has participated at the renowned, biennial Trade Fair for Pet Supplies, Interzoo, held in Germany. As regular exhibitors at the Interzoo, Golden Marindo is always committed to introduce and displays its product, Live Corals for Modern Aquaria.
Interzoo 1998,  Hall 6 Stand Number 06 – 211

Interzoo 2000, Hall 6 Stand Number 06 – 208

Interzoo 2002, Hall 6 Stand Number 06 – 208

Interzoo 2004, Hall 6 Stand Number 06 – 106

Interzoo 2006, Hall 6 Stand Number 06 – 119

Interzoo 2008, Hall 6 Stand Number 06 – 230

Interzoo 2010, Hall 6 Stand Number 06 – 220

Interzoo 2012, Hall 6 Stand Number 06 – 220

Interzoo 2014, Hall 6 Stand Number 06 – 220

Interzoo 2016, Hall 6 Stand Number 06 – 220

Interzoo 2018, Hall 6 Stand Number 06 – 220